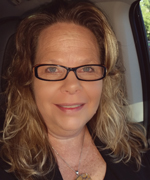 Vanessa Fayo
Executive Secretary to the Dean

Vanessa Fayo is the Administrative Specialist in the dean's office. In this capacity she maintains the deans calendar, appointments and travel, while also serving as liaison to senior management across campus, the UF Foundation, and off campus entities. Vanessa handles all Cuba travel inquiries from faculty and staff, while staying up to date on changes issued by the Office of Foreign Affairs Control. She is also UFIC's human resources/payroll manager and processes all office-staff travel.
A 1988 graduate of Santa Fe College, Vanessa first worked in the banking industry and AvMed Insurance before coming to the University of Florida in 1996. Vanessa began her career at UF in the Physical Plant Grounds Dept. She has worked in IFAS Information Technology and Environmental Health & Safety. She has been with the International Center since 2010.
Vanessa is an avid Gator fan and in her spare time, along with her husband, Ray and son, Skyler, they enjoy driving their hot rod cars to local cruise/ins and car shows.
Contact Information
vfayo@ufic.ufl.edu
(352) 273-1536