UF Global Health Case Competition
International health and development issues cannot be remedied by a single discipline. Intercollegiate communication and innovation is the only way to successfully eliminate global health disparities. This is why the Global Health Case Competition at the University of Florida is so critical for building new relationships between students and departments. It promotes the sharing of experiences and knowledge for a common good using a fun, competitive format. The result is eight dynamic presentations created by team members with unique interests and expertise, all of which address a real world international issue.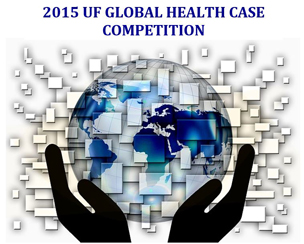 This year marks the second opportunity for the Gator Nation to host an intermural competition for UF students to demonstrate their ability to solve complex global health problems and successfully work with partners from diverse academic backgrounds.
We invite all University of Florida students to apply to participate in this year's event regardless of major of year of study. Eight teams will be created based on the quality of the application and the need for varied colleges and department representation amongst each team. In addition, we will be looking for volunteers to help with all events.
Mark your calendars for these important 2015 GHCC dates:
Registration for the 2015 event is January 14th through January 22nd
The Kick Off Event and Reception will be Wednesday, January 28th
The Competition will be held Saturday, January 31st
APPLY NOW: THE POSITION OF EXECUTIVE DIRECTOR 2015 - 2016 IS OPEN
This volunteer position is highly encouraged for University of Florida graduate students. Click here for more information.
Contact Information
Please direct any questions or comments to ghcc.uf@gmail.com.
Please visit our Facebook page and share with your friends.