Reviewers: Review Process
SAS assigns the role of reviewer to all program directors of faculty-led programs and to some administrative staff from the differente colleges and departments. Under this role, reviewers are expected to make their recommendations for program admission based on the application information submitted by students applying to participate in our study abroad programs.
To access our system as a reviewer, login to our online system using your gatorlink username and password.
Review Process
Once a student submits all of his/her online pre-decision requirements, reviewers will be able to use the Study Abroad system to determine which students are ready for review.  This can be done by clicking on the student's name:

After checking all the information included on the student's application, reviewers will be able to submit their recommendation to SAS by including any comment, marking the recommendation (Accept, Reject, or Waitlist) and checking the box "Mark as completed." The reviewer's recommendation assists SAS to determine which students to approve to study abroad.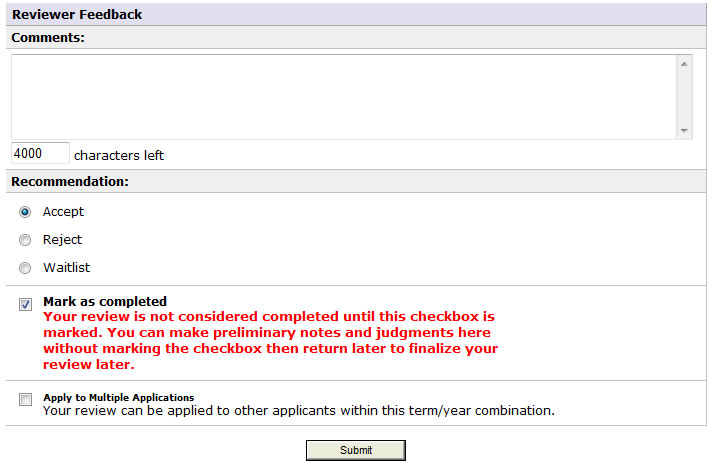 After the reviewer completes a recommendation, a student will display when the recommendation was submitted:

Additional Permissions
Reviewers may also have permissions to perform the following tasks in the Study Abroad System:
Applicant search (simple and advanced)
Batch sending of email and SMS (search results)
Create Reports
Save Searches
Progress Auditing
Application admin (view) of questionnaires, materials, reviews, applicant information, comments, recommendations, addresses