Curriculum Enhancement
UF's Learning Without Borders is invested in supporting UF colleges, departments and faculty members who seek to internationalize their current courses and/or create new coursework that reflect significant global and intercultural dimensions.
Year One (2014-15): In December 2014, UF Colleges circulated a QEP-funded open call for international course development grants to their faculty. In Year One, international course grants were awarded to 24 faculty members representing twenty-one courses from eleven undergraduate colleges. These classes represent course options for students enrolled in the International Scholars Program.
Year Two (2015-2016): Learning Without Borders curriculum enhancement initiatives continue. Please find the call for proposals here.
Internationalizing your Curriculum
Faculty International Course
Development Meeting
There are several approaches to internationalization of curriculum in higher education. One helpful individual course approach to internationalization is provided by the American Council on Education (ACE) toolkit. It emphasizes "areas" and "levels" of an internationalized course.
Areas include:
Content
Materials
Activities & Assignments
Student Learning Outcomes
Levels consider the depth at which a course incorporates an international or intercultural focus: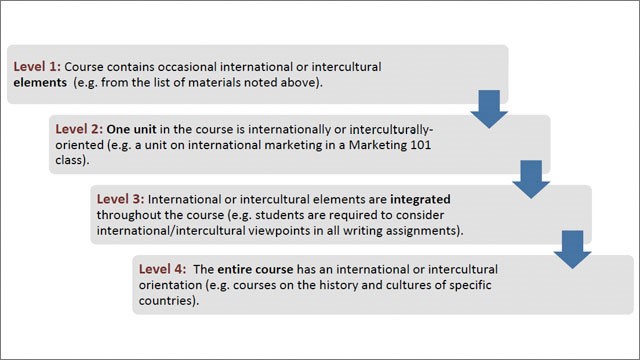 Here are a collection of internationalization resources that may be useful to UF faculty members and administrators.