UFIC Speaker Series
Global Challenges
Global Challenges is a speaker series designed to expose students to current and ongoing international challenges impacting our communities and communities worldwide. Talks provide a forum in which students explore and develop a deeper understanding of topical and often controversial international issues as presented across profession, academic fields, research and expertise, enhancing student global awareness and intercultural communication.
Upcoming
Fall 2015 (TBA)
Past events
March 9th, 2015. The United States and Cuba: The Secret History Behind the Historic Obama-Castro Rapprochement, Dr. Peter Kornbluh, Senior Analyst, National Security Archive.
January 22nd, 2015. The New Arabs: Youth Movements & Social-Political Reform since 2011 with Dr. Juan Cole, University of Michigan Richard P. Mitchel Collegiate Professor of History.
October 22nd, 2015. ISIS and the Question of Islamic Militancy: A Public Conversation with Dr. Terje Ostebo, Dr. Matthew Jacobs and Dr. Leonardo Villalon (sponsored by UFIC, Center for Global Islamic Studies, and the Bob Graham Center for Public Service)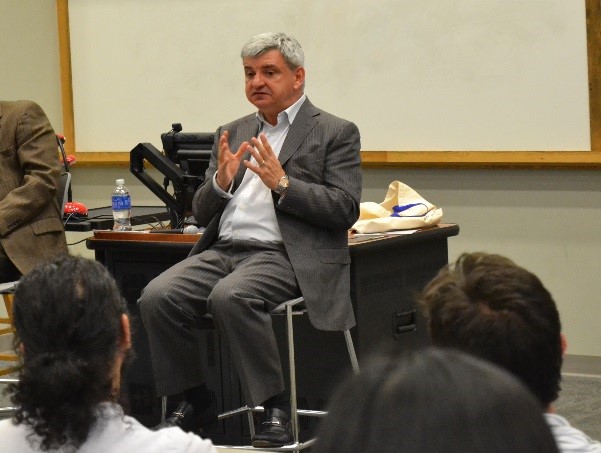 International Career Pathways
International Career Pathways is an ongoing speaker series designed to provide students with an opportunity to learn about the work, ideas and perspectives of international career professionals and specialists, including scholars, researchers, and development practitioners, among others. Speakers encourage students to delve deeper into the mindset and reality of an international career path with a key emphasis on the essential knowledge and skillsets require, enhancing global awareness and intercultural communication.
Upcoming
Launching a Global Career
Alexia Ash
Manager, IHS Economics and Country Risk Division
MSc in Global Politics, London School of Economics
BAs in Mathematics and Political Science, University of Florida
Monday, November 16th at 5:30pm, Keene-Flint Room 50
Alexia Ash will discuss her own and her peers' experiences in launching a global career early, including key tips on what you can do as a student to gain a global perspective before entering the workforce.
Alexia Ash received a MSc in Global Politics from the London School of Economics and her BAs in Mathematics and Political Science at the University of Florida. Ash leads on the development of quantitative products as part of the IHS Economics and Country Risk division. In this role, she works with global clients to model their exposure to violent and non-violent political risks. Ash has worked on mapping terrorism, forecasting the outcome of the Eurozone crisis, and modeling the fallout from the tsunami that hit the Fukushima nuclear plant. She has also appeared as an expert on these topics in the media including on the BBC, MSNBC, and Bloomberg. Ash previously worked at the World Bank and USAID.
Facebook event link: https://www.facebook.com/events/1503964189902194/
Past events
April 8th, 2015. International Career Talk, Bruce Moats, Director of Communications, International Finance Corporation (IFC), World Bank Group.
February 23rd, 2015. UFIC and the Career Resource Center: Possible Futures International Career Panel featuring:

Dr. Kathleen Colverson, IFAS Global Associate Director
Sheldon Wardwell, South Sudan Nonviolent Peaceforce Peacekeeper
Bobbi Steinmetz, UF Peace Corps Recruiter

October 21st, 2014. Careers in the Foreign Service with Michael E. Thurston, U.S. Department of State Diplomat-in-Residence Southeast Region.